What is 6clicks Marketplace?
6clicks is a leading online marketplace for the Governance, Risk, and Compliance (GRC) industry, serving as a single source for apps and content that integrate with the core 6clicks GRC platform. The platform also connects businesses with customers and provides a variety of tools and resources to help them succeed.
The marketplace offers a wide range of products and services from vendors in the GRC industry such as software, content, training, and consulting. Customers can easily browse and compare offerings to find the right solution.
In addition to its product and service offerings, 6clicks also provides a variety of resources to help businesses succeed. This includes educational content, webinars, events and access to a community of experts and peers to help businesses stay updated on GRC industry trends and best practices.
Whether you're a vendor looking to sell your products and services or a customer seeking solutions, 6clicks marketplace is the place to be.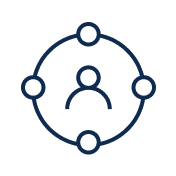 Using 6clicks marketplace as a vendor
Learn how vendors in the Governance, Risk, and Compliance industry can increase their revenue by displaying their apps, content, and services on the 6clicks marketplace.
Using 6clicks marketplace as a buyer
Discover how our trusted online marketplace can help you minimize risk and streamline your operations.